Whether you like it or not, your business probably already has an Online Reputation. The question is, are you going to manage it?
Reputation Services
Bizeeo Marketing Agency provides Online Reputation Management1 and Marketing2 Services in Montgomery, Alabama.
We're located in Hillwood (part of Midtown Montgomery) near Zelda Rd.
Reputation, Perception and Change
If you're a Montgomery business owner, these are important questions to consider:
Does your business have a "good" online reputation?
Is your Brand Reputation secure?
When was the last time you checked?
Do you know what any of this means, how to verify it, or what to do if there's a problem?
"Character is like a tree and reputation like a shadow. The shadow is what we think of it; the tree is the real thing." ~ Abraham Lincoln
We think President Lincoln's clever analogy3 was spot-on, and more relevant today than he could have possibly imagined.
Expanding on his metaphorical use of a tree's shadow to represent "reputation", a tree is usually stationary while its shadow is continuously morphing. The changes are both dimensional and subject to interpretation.
Depending on when you look, a tree's shadow will vary by direction and length. Sometimes its outline is well-defined, telling you a lot about its owner. Other times it's barely discernible and keeps you guessing.
Online Reputations are much the same as a tree's shadow, with one distinction – we can exercise some degree of control regarding Internet reputations and their resulting perceptions.
Public Relations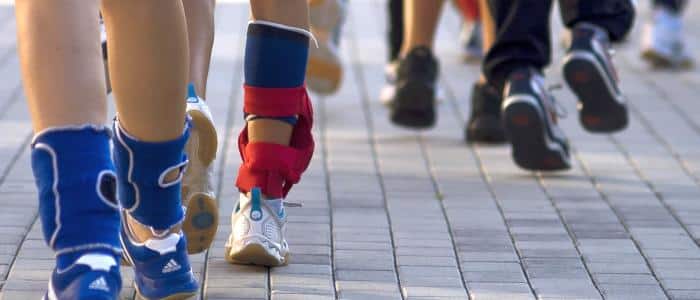 How did we handle reputations in Montgomery before they went "all digital" on us?
The current day practice of Reputation Management has its roots in Public Relations, an older form of marketing communications used to influence perceptions about an individual or organization.
According to Wikipedia4:
Public relations (PR) is the practice of managing the spread of information between an individual or an organization (such as a business, government agency, or a nonprofit organization) and the public.
The differences between Public Relations, or PR, and Reputation Management are fuzzy, and appear to be related more to tactics and technology, than outcome.
In either case someone's, or something's, reputation is at stake, and may need some attention.
What Is Reputation?
You'd be hard pressed to find a universally accepted definition for "reputation".
For most consumers, it boils down to one word – "Trust".
Can you or your Montgomery business be trusted?
As quoted above, our 16th President spoke of reputation as being more about "perception" than reality.
However defined, a business (or business owner) should take an active interest in protecting its reputation, especially on the Web, as a way of securing its future success.
Online Presence Management
When it comes to managing your online "presence", the Internet has changed everything – hence the emphasis on the first word – "Online".
Consumers today are always "connected", with instant access to social media networks, Montgomery customer review sites, blogs and other online "word of mouth" exposure.
What does this mean for your business?
There are 3 major considerations:
Reputation Management is NOT only about REPAIRING your Online Presence, it's also about PROMOTING it. There are opportunities to market your business online that can pay big dividends.
Customer feedback is valuable information for Montgomery businesses wanting to improve their products and services. Online responses from Montgomery business owners are valued and appreciated by existing and potential customers (and Google).
There is no such thing as "opting-out" of the online discussion. If you think this is something your business doesn't need and you'd prefer to "stay beneath the radar", all we can say is "brace yourself".
Without exception, the best form of advertising your Montgomery-area business can possibly receive is a steady flow of positive, Online Reviews and Social Shares by your customers.
And did we mention this is FREE advertising?
"The best way to promote your business is to encourage others to do it for you."
An excellent example of how effective Online Reviews can be (especially for restaurants and other "service" industries) is the success of one of our clients, Uncle Mick's Cajun Café5 in Prattville, Alabama. (Yes, a shameless plug.)
Uncle Mick's opened in 2009 in a low traffic area (Historic Downtown Prattville) and is locally owned and operated.
As of the date of this article (Nov 10, 2015), here are some sobering numbers and facts regarding Online Reviews published about Uncle Mick's:
Google+: 59 reviews with 4.8 average out of 5 stars and ranked #1 in Google's local search results.6
TripAdvisor: 184 reviews and ranked "#1 of 102 Places to Eat in Prattville".7
Facebook: 278 reviews with 4.8 average out of 5 stars.8
Yelp: 82 reviews with 4.5 average out of 5 stars and ranked #1 on their list.9
Zomata (previously Urban Spoon): 70 reviews, 452 votes with 4.3 rating out of 5 stars and ranked #1 on their list.10
Bizeeo™ responds, on behalf of Uncle Mick's, to as many of the reviews as possible. Uncle Mick's plays an active role in the process by reviewing OUR work and providing necessary guidance as needed.
As a result, Uncle Mick's dropped ALL other forms of advertising well over 2 years ago.11
Online Reviews are considered (by most SEOs) an important "ranking signal" used by Google when determining where a business website (or its review sites) will show up in the search results. In other words, Online Reviews provide a ranking "boost".
"Online Reviews can Provide a Significant Ranking 'Boost'"
When performing the most generic search possible restaurants in prattville al , Uncle Mick's review sites occupy the top spot in "local/map" search results, and the top 3 spots in the organic/natural search results.
Need evidence? Try the search for yourself, or click here, wait a few seconds, and watch the magic.12
The screenshot below contain the last 3 reviews received by Uncle Mick's on TripAdvisor's website.
Please Note: The most recent review (dated November 7th, 2015) cites the reason for "giving it a shot" was "after reading all the reviews about Uncle Mick's"!
Click the image if you'd like to see all of their reviews.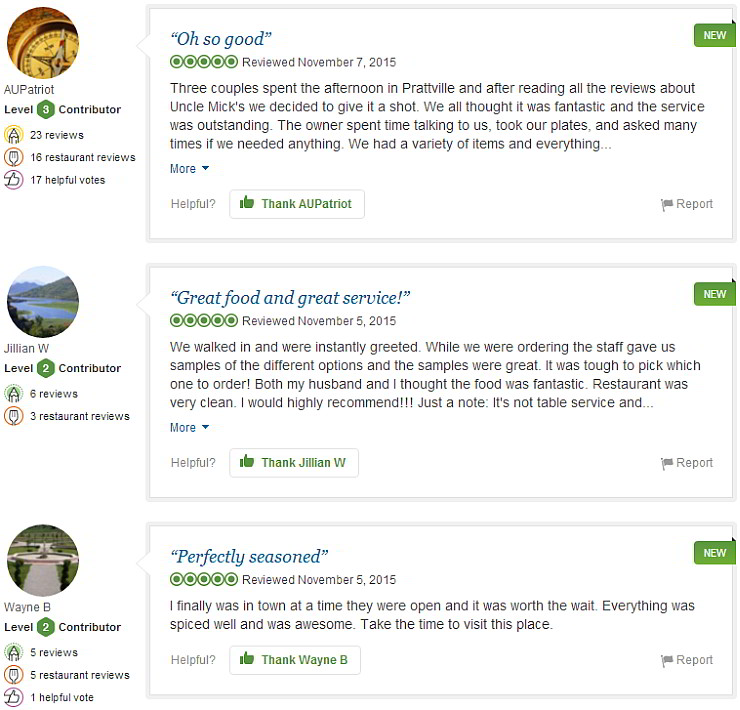 Bizeeo™ will create and customize local business review sites, including niche and industry sites, such as:
Yelp
Google+
TripAdvisor
HealthGrades
Zomata
Bing Local, and more.
The mere existence of a customized review site will encourage customers to share their positive experiences. And we monitor what's being said and keep your Montgomery-area business in the loop.
We'll also create and customize Social Media networks like Facebook and Twitter, publish interesting and unique updates, and engage with your Montgomery customers to keep the conversation going.
Negative Reviews
A question we are often asked is "Will creating review sites make my business more vulnerable to negative comments?"
The short answer is "No."
Like it or not, the online, local business ecosystem automatically creates review sites. If someone is determined to publish negative remarks about your business, there is nothing you can do to stop them.
Also, most public comments are permanently etched in Google's memory and can ultimately be seen by hundreds, or even thousands of Montgomery consumers.
Here is an example of what can happen when you ignore your online reputation: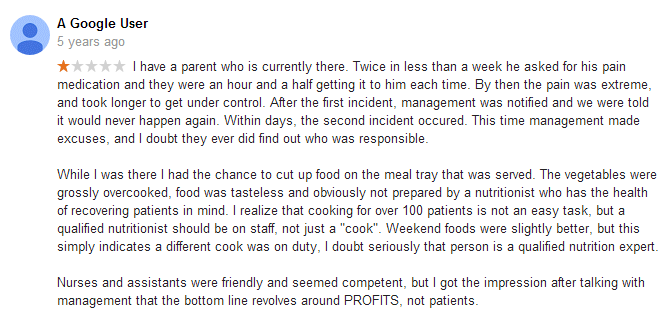 There are several issues about this review (shown above) worth pointing out:
This local Montgomery review was published 5 years ago, and there is STILL no response from the business/business owner.13
Many reviews are "aggregated" by other review sites, meaning they are collected and published on other websites. There is another negative review for the same company that is published on both Google+ and AL.com (BusinessFinder).14
Note the "reviewer" is "A Google User", meaning it was posted anonymously. Google changed their review policy May of 2012 and no longer allows anonymous reviews. It is possible that the business owner could flag this review and request it be removed. If you don't ask, it won't happen.
The WORST thing a business can do with a negative review is ignore it.15 Even if you must fess up and admit some fault, other viewers (potential clients/customers) will see that you cared enough to make the effort. If you choose your words carefully in your official business response, occasionally a negative review can be turned into an overall positive.
Repairing Your Reputation
The good news is there are several things you can do to mitigate, negate and sometimes benefit from negative comments.
Bizeeo™ has several strategies for dealing with your digital reputation, which include:
Encouraging your customers to publish positive ratings and reviews
Closely monitor what's being said about you and your business
Responding promptly and professionally when necessary
Managing your online reputation requires one to be proactive, diligent and consistent. Bizeeo™ is up to the challenge.
Whether it's to keep a watchful eye on your "shadow" (remember the tree?), or to provide serious "digital damage control", contact Bizeeo Marketing Agency in Montgomery, Alabama and let's review YOUR reputation. 🙂