Video SEO in Montgomery, AL
Bizeeo Marketing Agency offers Video SEO & Marketing Services in Montgomery, Alabama. (opens video in new tab)
If you linked over from our "Video Marketing" video on YouTube, skip ahead and read this first.
What is Video Marketing?
Simply stated, Video Marketing is the use of video to promote your business, products, services or message.
Within the context of Internet Marketing, video is typically published, or hosted, online and made available to potential customers via:
Web search (Google, Bing or Yahoo)
Video search engines (YouTube, Vimeo)
Business websites and blogs
Social Media Networks, and
Local business directories like Google+
Video Production
Creating a video can be as simple as recording a slideshow animation in PowerPoint.
In some instances, video recorded with a smartphone device might meet your needs. For high-quality Corporate Video Production, hiring a professional Video Production and Editing Service may be necessary.
With proper video editing software, nearly any combination of the above mentioned methods can be mixed and matched, with the ability to add numerous special effects like music and voice-over narration.
The possibilities are limited only by one's imagination and computer skills.
The video production method you choose will depend on many factors, including:
Budget
Time
Industry classification
Marketing goals
Target audience
Video Hosting
Videos can be uploaded, published and managed on your business website, social media networks and specialized video hosting services like YouTube and Vimeo.
Video hosting with YouTube and Vimeo is free (paid upgrades are available) and has the potential to reach a wide audience. Most people don't realize YouTube is the 2nd largest search engine in the world. 1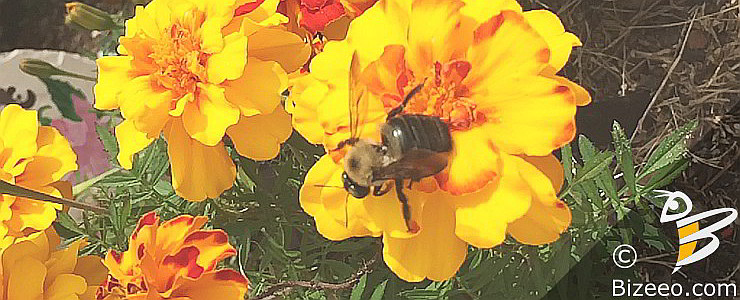 YouTube Marketing & Advertising
Many local businesses make use of YouTube Video Promotion techniques to help generate online leads.
There are many benefits with uploading video to YouTube, including:
Little or no hosting costs
Customized, branded YouTube channel
Built-in video editing tools
Ability to easily share on other websites
Easy to embed on business website
Searchable via YouTube's video search engine
In some cases, findable via web search (see "Video Search" below)
Video Search Results
In the best case scenario, your video will rank well on Google's SERP (Search Engine Results Page) in response to an online search by a potential customer.
The following image is an example of a Bizeeo™ video about SEO from our YouTube Channel 2 ranking on page one of Google's search results for the keyword query seo services in montgomery al.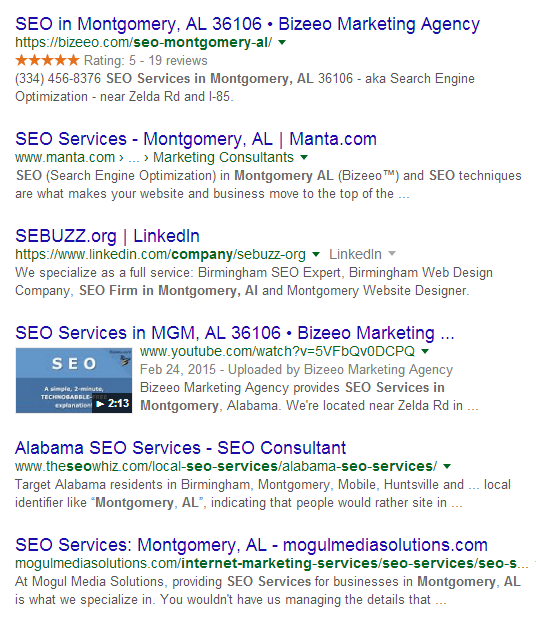 Studies have indicated the CTR (Click Thru Rate) for video returned in the SERP experience a 5% or greater 3 increase.
Video SEO
Applying effective SEO (Search Engine Optimization) techniques once your video is uploaded greatly increases the chance of your video being found, viewed and shared.
Video SEO tasks include:
Creating relevant titles for each video
Developing content for the video description
Social Video Marketing 4

Encouraging viewer comments and sharing
Engagement with viewers

Developing and customizing a transcript
Choosing an appropriate video filename
Selecting proper categories and tags, and more
Ultimately, online video can be an excellent marketing and lead generation tool if properly implemented.
Our YouTube Video
This section is for visitors linking over from YouTube.
Were you watching this video on YouTube and wondering, "What's the point of this video?"
If you found our video in Google's "web" search results, you may already "get it". If not, here's a quick explanation.
There are many articles out there that explain the importance and benefits of using video to rank your local business in Google's search results.
NOT YouTube's search results. Google's WEB results. That's where potential customers are searching for your products and services!
There are also many articles on the web that explain the steps necessary to make all this happen. It's easier said then done. 🙂
Instead, we (Bizeeo™) went ahead and DID it.
We ranked our video about "Video Marketing" in Google's SERP (Search Engine Results Page).
Confused? It takes only a few seconds to check for yourself. Visit Google's "web" search engine and perform a keyword search for video marketing in montgomery alabama.
Or click this link, wait a few seconds, and watch the magic.
You should have found our video ranking in the top 10 results on page 1 of Google's "web" search.
For more details about our Video SEO Marketing Services, go to What is Video Marketing (top of page) and learn more.
Contact Bizeeo Marketing Agency if you're interested in having a video created and optimized for your business.
Business Categories

Video Editing Service
Video Production Service